Welcome Spring Open House
April 19

-

April 20

|

Recurring Event

(See all)

An event every day that begins at 12:00am, repeating until April 19, 2019
Event Navigation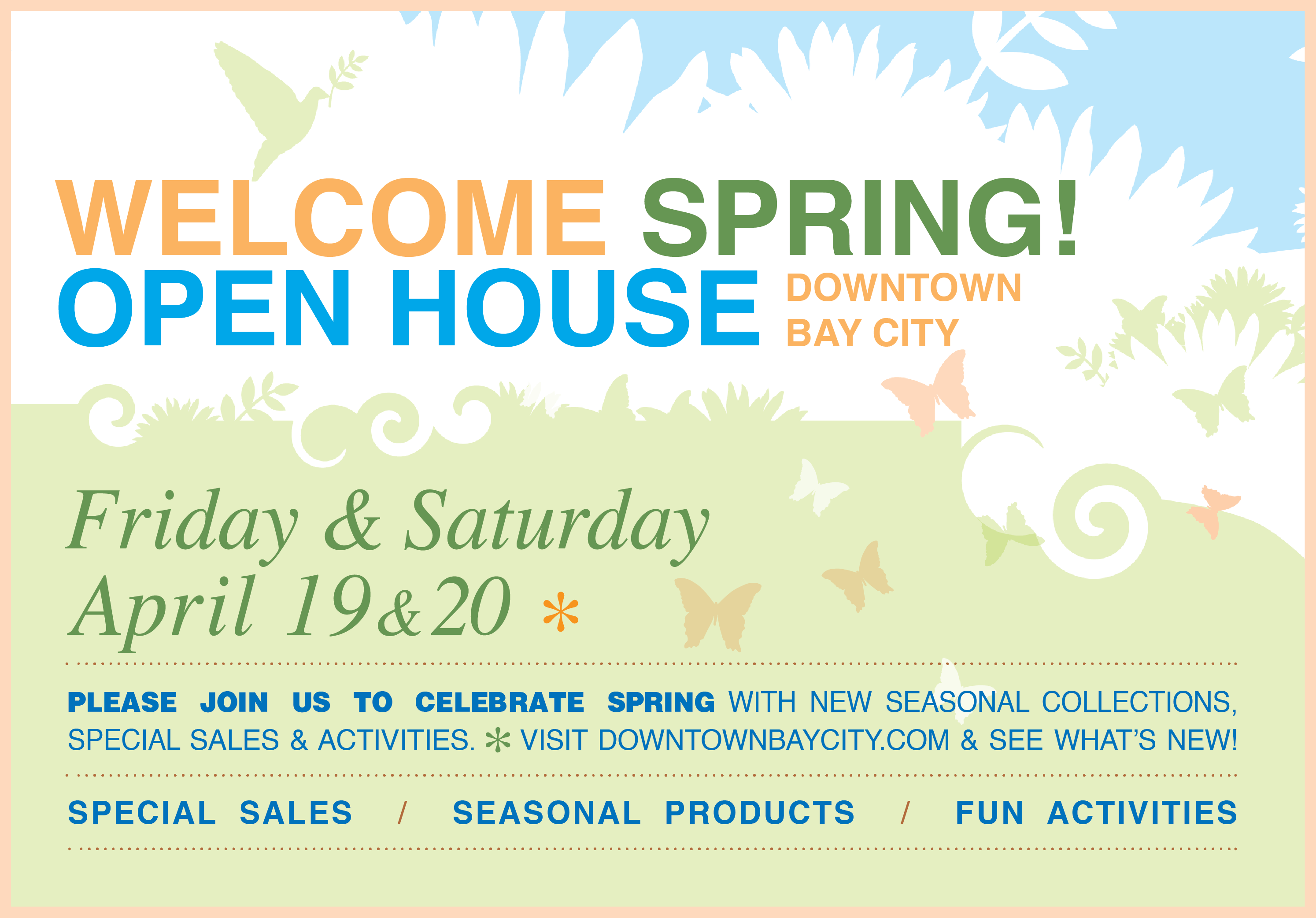 Downtown Welcomes Spring with Open Houses all over town. Enjoy the true signs of spring with beautiful new ideas and products for home, fashions  to lift your spirits and a bounty of dining options. A great time of the year to get out of the house and stroll historic Downtown Bay City!
Participating Businesses:
99 Trees Bookstore – 302 Center Ave. – Join us for an open house celebrating our American History with interactive educational fun for the whole family!
A Wedding & Gift Boutique / Sweet Choices Cake Decorating School – 108 Fourth St. – Clearance of wedding & shower accessories 45% off! Clearance sales on select baking/cake decorating supplies.
artigiano – 815 Saginaw St. – Spring is the time for delicious artisan goat's milk cheeses. Stop in for a sample, including chocolate chevre! (Tastes like cheesecake)
Bayshire Beauty Academy – 917 Saginaw St. Free pedicure with the purchase of a manicure!
Beatles & Beans Coffee Emporium – 916 N Water St. – Spring into Beatles And Beans Coffee Emporium.  Latte Fab Favorite specialty beverages. Experience the new Coffee Revolution, Bean-A-Mania! Let It Bean!
Coyer Candle Co. – 112 Third St. – $2 off $10 purchase, $12 – 21 oz. Status candles, $3 Great Lakes Air Fresheners, Earth Day candles and clearance!
Delta College Planetarium – 100 Center Ave. – Sit and relax in the dark cozy comfort of the Planetarium's Dome360 Theatre and be treated to beautiful music with breathtaking views of space, mind-provoking immersive art and 360-surround environments. Saturday, April 20 at 12:30pm. Special price of only $3 a seat.
Ferne Boutique – 922 Washington Ave. – Showcasing our Spring and Summer styles!
G.T. Homestead – 109 Third St. – Our shop is filled with lots of new spring decor! In-store specials, refreshments, & receive an entry to win a G.T. Homestead gift certificate with any purchase!
Herter Music Center – 901 Washington Ave. – Stock up on all your musical needs for spring with our Spring Clearance Sale.
Herman Hiss & Company – 905 Washington Ave. – Come see new home décor and Spring fashions while you enjoy refreshments!
Litte House – 924 N Water St. – The store is filled with new decor and gifts just in time for Spring makeovers.
Little Shop Boutique – 107 Fifth St.  – Free treats from Barney's Bakery (1 per customer) and a drawing to win a $25 gift card for Little Shop Boutique.
MeadowCreek Clothiers – 920 Washington Ave. – Stop into MeadowCreek to see The Full Collection of Spring Fashions. Receive a Free T-Shirt 100% Cotton ($27.00 Value) Black or White XS thru XL or Cotton Shopping Tote with any purchase.
My Secret Garden – 600 Saginaw St.  – Gourmet treats, draw an egg for a discount or prize & wonderful displays and fashions!
Painterly Pottery – 923 N Water St. – Come check out our Spring and Mother's Day pottery!
Panache Boutique – 214 Center Ave. – Stop by and get a fashionable head start on our amazing spring styles!
Perfectly Imperfect Creations – 108 3rd St.  Be entered to win giveaways with every ten dollars of purchases!
Populace Coffee – 810 Saginaw St. – Come try our seasonal Spring menu.
Sempliner's Bride & Formal – 902 N Water St. – Prom Sale! 50% off all in-stock remaining 2019 prom dresses.
St. Laurent Brothers – 1101 N Water St. – Samples of St. Laurent Brothers handdipped chocolates and special prices on Easter candies. 
Studio 23/The Arts Center – 901 N Water St. Visit the newly renovated  gallery and classrooms of Studio 23. Current exhibit is Delta College's Arts & Letters Fest 2019! Art activities for all ages from Noon-4pm each day.
Sweet Peach Children's Boutique – 910 Washington Ave. – Join us for fun spring activities on Saturday, April 20 from noon-2PM. *Check out our Spring Fashions at City Market at 11AM.
The Cat's Meow Downtown – 810  Washington Ave. – 25% off storewide sale!
The Gourmet Cupcake Shoppe – 915 Washington Ave – Stop by and try Free Samples of our amazing fresh baked cookies, cupcakes and more!
Uptown Girl – 111 Center Ave.  – Come check out great styles for Spring  and Summer! Store wide savings!
Village Chocolatier – 811 Saginaw St.  – Gourmet chocolates and fresh chocolate dipped fruit.
Violets Blue – 115 Fourth St. – It's a planting, potting party!  Pick out the plant, pick out the pot and we will do the rest.
*Inside City Market – 4o1 Center Ave.*
The Devout Sprout – Free classes on how to make an Early Spring Radish Salad in the Community Teaching Kitchen 
Bee Leaf Teas  – Check out and sample our newest teas ready for your summer brewing. 
Modern Craft Wine – Come try our brand new release Northbound Spring at Bay City's only wine tasting room!
Oily Apothecary – Spring Fling Special of the Day
GCC Organics – Kids coloring contest, Product samples,  Grab bag for discounts and free products.
That Guys BBQ & That Guys Meats – Bring in this flyer and receive 10% off your purchase at That Guys BBQ or That Guys Meats
For the Love of Cheesecake – Stop by for a slice of your favorite cheesecakes or try some of our new flavors!
Tex-Mex Grille – 10% off entire purchase of $20 or more or 1 free dessert with purchase of $20 or more
City Market Events:
•Friday, April 19•
12:15pm – City Market Tour – Meet at the Community Teaching Kitchen inside City Market! 
•Saturday, April 20•
10:00am – City Market Easter Egg Hunt (must register)
11:00am – Sweet Peach Children's Boutique Fashion Show
12:30pm – City Market Community Teaching Kitchen Demonstration:  Spring Radish Salad with Bob Younce of The Devout Sprout Salad Bar & Eatery
Related Events